Essential Resources for Accountants
Everything you need to turn a necessary evil (recruitment) into the most powerful tool in your arsenal.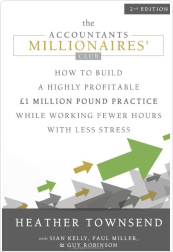 The Accountants Millionaires' Club – How to build a highly profitable £1 million pound practice while working fewer hours with less stress
This book will give you the confidence, motivation, inspiration and all the information you will need to build a successful, highly profitable one million pound accountancy practice.
This book explains how others did it, and how you can too.
I'm ready to look for a job